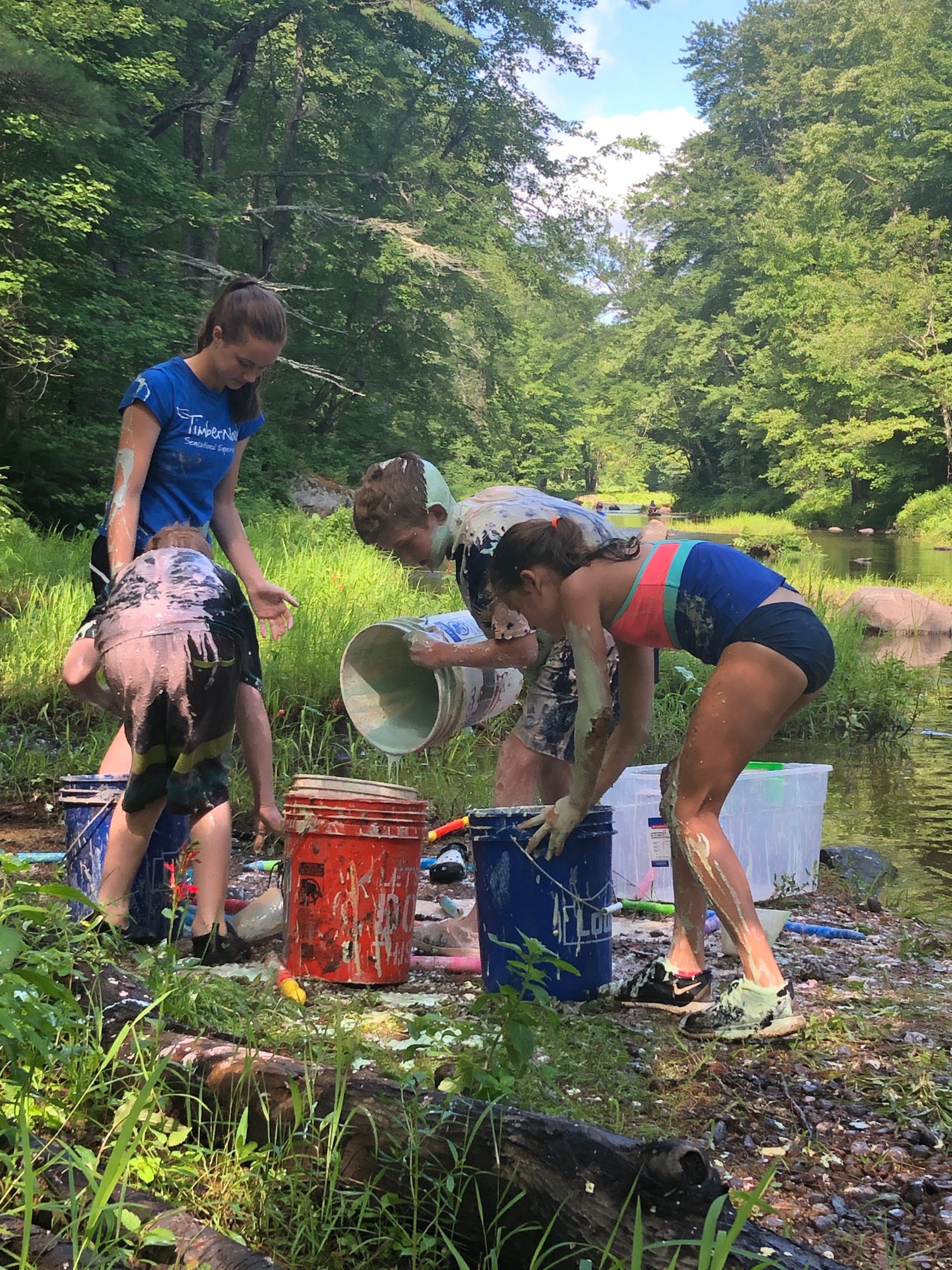 During this week children will have the opportunity to kick off their shoes and get messy! Opportunities will include becoming a bug detective, experimenting with different paints and mediums (such as shaving cream, flour, etc.) to create a beautiful mess, a giant foam experience, creating a tiny village for woodland animals, and getting muddy with monster trucks! Additionally, children will also have the opportunity to participate in group games, cook over an open fire, and have hours of nature play out in the wild!
Please read the following information carefully prior to registering your child.
This program runs from 9am – 1pm and is for children ages 4-8, but ages may be flexible to accommodate siblings – please send us an email prior to registration to discuss this accommodation.
All of our programs are inclusive; we provide a safe environment for children and families of all abilities, backgrounds, and belief systems.
Children are required to bring their own food/water – families will be notified of any allergies prior to the start of camp.
In the event that we have to close for any reason, you will be offered a 90% refund or 100% credit. Refund/credit is ONLY issued in the event that TimberNook Moose Mountain Region has to cancel the program. If a child has to miss a class for any reason, there will be no credit/refunds.
When deciding if TimberNook Moose Mountain Region is a good fit for your child, please consider the following:
We maintain a 6:1 child/adult ratio
The role of the adult is to step back and tune in. TimberNook staff maintains visual contact with children but may be out of arm's reach. Staff allow children the opportunity to build conflict resolution skills, stepping in when safety is a factor.
Children must maintain visual contact of a TimberNook staff member at all times, stay within the designated boundaries of our site, and manage their needs (such as eating, drinking fluids, and using the restroom).
We understand that children are individuals and sometimes have varying abilities and unique needs. If your child requires additional support, please contact us to make a plan prior to registering.
If you are having difficulty with registration or payment, please try a different browser (chrome is the suggested browser) and clear your cookies/cache.
You will receive a confirmation email within 24 hours after registration. Please check your junk/spam folder as they sometimes end up in there. If you do not receive a confirmation email within 24 hours, please contact us so we can resend it!
If this program is full, email us to be added to the waitlist: [email protected]
If you have any questions or concerns, please do not hesitate to get in touch with us!
Thank you for supporting TimberNook Moose Mountain Region!
TimberNook Moose Mountain Region
Barefoot and Buckets – TimberNook Moose Mountain Region
Jul 25 - Jul 29
Times: 9:00 am - 1:00 pm
Ages: 4 - 8
---
---
Instructor:
Amber Baud
Donna Johnson
Reviews & Feedback