GOING WILD – School Holiday Program Tuesday 4th October 2022
This classic TimberNook program is for children (3-12 years) who enjoy taking play to a whole new level through collaborative, creative, and sensory-immersive experiences with friends new and old.  We guarantee days full of adventure, mindfulness, games, and surprises!
School Holidays will see children creating long lasting connections and memories of being in the bush during this 5 hour drop-off program. There may be opportunities for children to participate in adventurous quests for lost treasure, to design their own large-scale obstacle courses or to take on roles of other eras or magical worlds. The curriculum is tailored to promote the ultimate test to gross motor and fine motor skill, whilst challenging the mind to solve problems or craft use of raw materials when in construction mode. With dramatic play anticipated, children will be encouraged to define their own rules, communicate their own boundaries, focus on teamwork and strategy.
Children will have opportunities to dive deep into play involving natural elements to build lifelong love of being outdoors.
PLEASE NOTE:
Your child must be independently toileting, we do not have nappy changing facilities.
Our hours are flexible only between 9am and 2pm, for late drop off and early pick-ups. Please email if you need more information.
All registrations for programs close at 2pm the business day before for staffing purposes.
Booking Cancellations: There is a 50% non-refundable deposit for any program cancellation. Cancellations received at least 4 weeks prior to the start of your program will receive a full refund MINUS a $50 admin fee. All other cancellations are ineligible for a refund. In the event that we need to close due to unforeseen circumstances you will be issued with a credit for a future program of equal value.
With the restrictions from COVID-19 and Services NSW please read all covid information sent in the welcome email as it will be updated regularly. We will have a hand washing station on site. If your child, or any of your family are ill with a cold or flu-like symptoms (or any other illness), you must stay home.
For any questions, please email us at:
TimberNook Southern Sydney
Going Wild – TimberNook Southern Sydney
Oct 4 - Oct 4
Times: 9:00 am - 2:00 pm
Ages: 3 - 12
---
1st Appin Scouts, Burke Street, Appin NSW 2560
---
Instructor: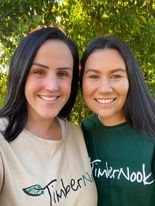 Southern Sydney TimberNook
Reviews & Feedback