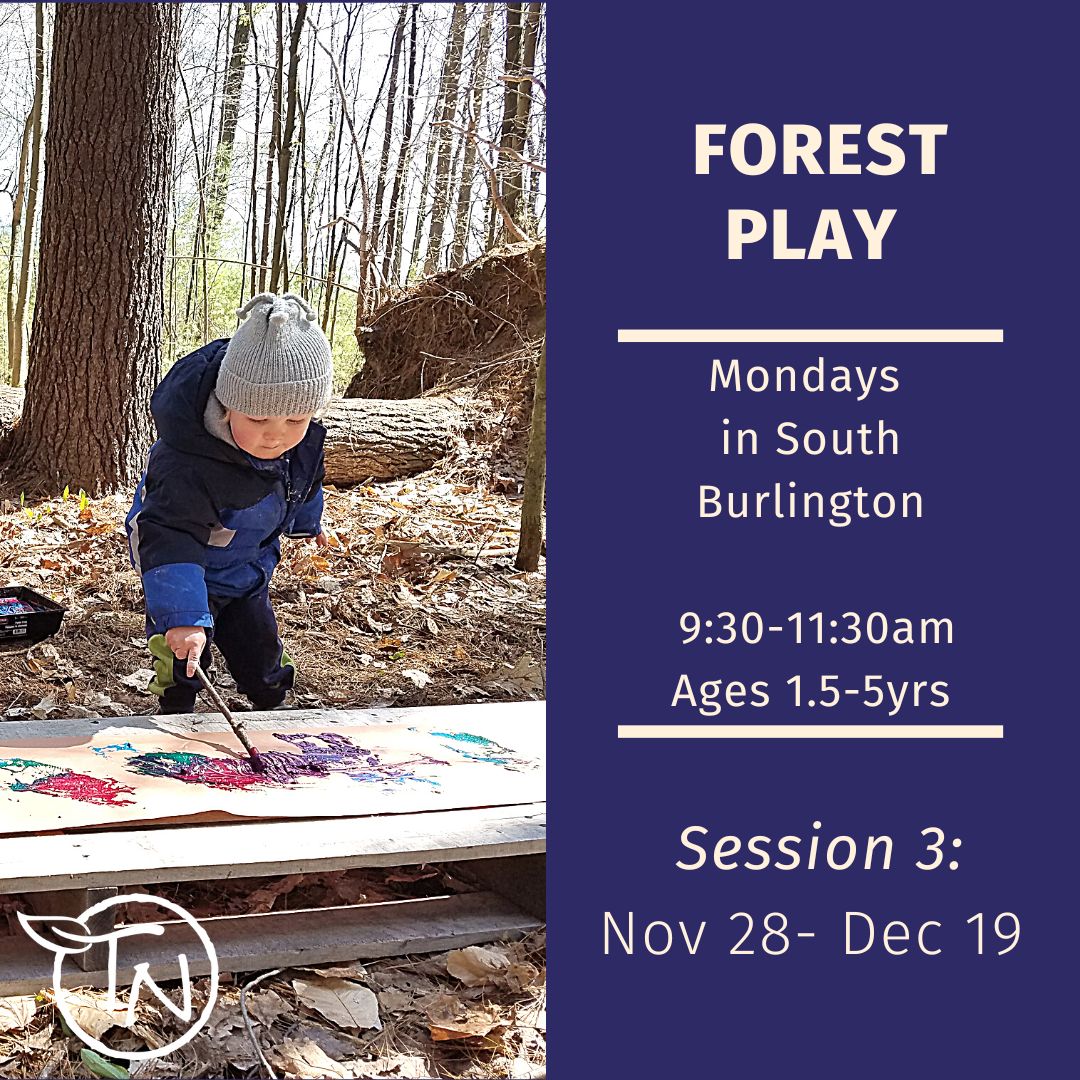 Monday Tiny Ones Playgroup – South Burlington
Session 3:
Nov 28- Dec 19 (4 weeks)
DESCRIPTION:
Tiny Ones is a nature-based playgroup experience for our youngest adventurers. You and your child will venture into the woods for creative play opportunities that engage the mind and challenge the senses. This parent-child program is designed for children toddlers and preschoolers (18 mos to 5 years) and is sure to delight and inspire the youngest of minds. Our site offers opportunities for individual and group play amidst a beautiful wooded area equipped with opportunities to climb, jump and swing, materials for building and space to explore. You'll also walk away each day with an idea on how to inspire creative play outdoors.
We make every effort to accommodate any child who wishes to attend our program.
Note: Have an infant and looking to connect with other families? Infants are welcome at no additional charge. Please contact Colleen to make arrangements to attend.
We follow guidance from the VT Department of Health for our Covid 19 procedures. You can find a complete description of our program policies regarding COVID mitigation HERE.
Forest Playgroup is a 100% outdoor program. Port-o-let available in the woods with bathrooms and emergency shelter available in the church. Weather appropriate attire for rain and snow is required and essential (for children AND their adult). We can offer suggestions for good quality rain gear. We ask that each child is equipped with insulated rain/snow boots during cooler/cold weather

.

Children have a potential to get dirty. Please have them dress accordingly. A change of clothes, an extra pair of closed toed shoes and towel recommended.

Bringing a snack and water for you and your child is often helpful. We will occasionally provide a small snack (and hot chocolate during colder months.)

More details will be emailed to you prior to the start of the program.
For more information please contact Colleen.
For more information about Wonder Roots: http://www.WonderRootsLLC.com
TimberNook of Greater Burlington
Session 3- Tiny Ones Forest Play – Wonder Roots TimberNook of Greater Burlington
Nov 28 - Dec 19
Times: 9:30 am - 11:30 am
Ages: 1.5 - 5
---
95 Allen Rd. South Burlington, VT 05403
---
Instructor:
Colleen Christman
Reviews & Feedback