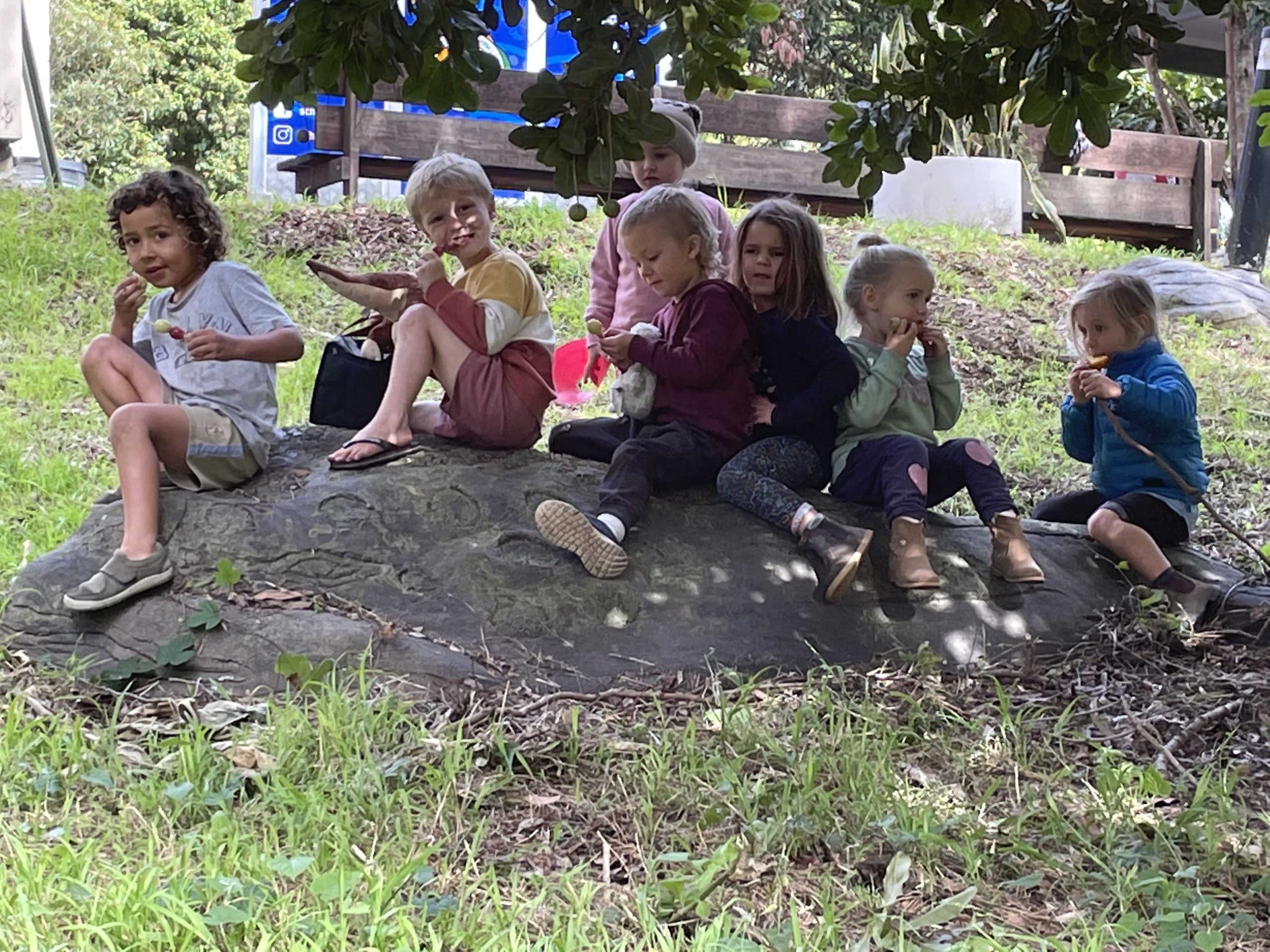 School Holidays Week 1 – Tuesday 27th September
For all of our programs at TimberNook we won't offer anything that is not environmentally friendly such as soap foam, shaving cream, or detergents so we can be sustainable.
Our clay work and art projects will be able to be revisited every day.
We will have team games like Colour Burst Catapults where there is an objective and points scored for hits and long-distance targets.
We will have the water slide each day and schedule it for the same time. This way we can be mindful of the water we're using. Our waterslide will run from 12.30-1.15, by this time everyone has eaten and all dry before going home, great way to finish the day on a high.
Please remember to be sun safe, pack sun safe bathers (or even an old t shirt!) and an extra pair of clothes to get changed in to.
We will still light the fire and have snacks each day!
We are also holding a competition for the children to create a Timbernook song! There will be a prize for the best song at the end of the week!
Day 1: Colour Burst
Children will play and explore with colour on this day.
Playing with colour on a grand scale is something children are not often given the opportunity to do. This experience will not only be incredibly fun and create lasting memories, but it will also work on developmental skills.
Motor Skills: Children will work on fine motor skills as they push and pull on the water shooters. They will challenge their upper body strength when reaching with long-handled paint equipment to add colour to the canvases. They will also work on endurance and speed as they play a game of tag.
Sensory Integration: Children will challenge their vestibular (balance) sense when reaching up and down and side to side as they paint their canvases. They'll also work on this sense when they move their body in different ways during their game of tag. They will also be getting a full tactile (touch) experience as they get wet and messy with paint from head to toe.
Social Skills: Children practice taking turns, requesting materials and assistance from peers, sharing of ideas, and regulating emotions.
Cognitive Skills: Children will work on simple problem-solving skills, artistic expression, flexibility of thought, and creativity as they play their colour game and paint on the canvases with other children.
Day 2: Colour Art Sculptures
Children will be able to use clay, cardboard and other materials to create their colourful art sculptures! Children can use their creations to make totems for their forts – And they can return to their pieces on another day!
Motor Skills: Children will work on fine motor skills as they draw with paint and mud. They will also challenge their strength, balance, and coordination as they carry heavy loose parts and their creations to their forts.
Sensory Integration: Children will have a rich tactile experience as they make art with chalk, mud, and water.
Social Skills: Children practice listening to peers' ideas, requesting materials and assistance from peers, negotiating, taking turns, and regulating emotions.
Cognitive Skills: Children will use their creativity as they take a few loose parts and turn them into "art masterpieces."
Day 3: Scientists
Children will have the opportunity to be scientists at TimberNook!
Playing Scientist is a dramatic play opportunity. Children have the opportunity to experiment with different ingredients and pretend to make different concoctions.
Motor Skills: Children will work on fine motor skills as they manipulate medicine droppers, grasp spoons, cups, and play with paints and colours.
Sensory Integration: The science experiments will stimulate children's tactile (touch) sense as they play with a variety of textures such as water, food colouring, corn flour paint.
Social Skills: Playful experimentation is a wonderful avenue to develop social skills. Children will learn about compromising, taking turns, and communicating their likes and dislikes while sharing the scientist equipment.
Cognitive Skills: Mixing colours and making up 'new' colours is a great way for children to make comparisons and understand cause and effect with their science experiments during play.
Day 4: Colour Play
Today children will experience colour everywhere! Through play with coloured powder, children will mix, throw, swipe, blow to create a colour burst on themselves and the earth around them.
Today children will have an over-the-top experience of colour that is sure to captivate and provide many developmental benefits.
Motor Skills: Children are using gross motor skills to run, bend down, stand up, and throw colourful handfuls.
Sensory Integration: Children have strong proprioceptive and tactile input from this activity. There is strong visual interest as well.
Social Skills: Children will need to watch and listen to their friends to see if they are enjoying themselves. These messy experiences can be a ton of fun, but also can go too far quickly. Children will hone their ability to read others and establish whether something is fun or too much.
Cognitive Skills: Children will experience some colour mixing today. They will see cause and effect in a variety of ways
 Day 5 – Tie Dye
Bring something to tie dye!
Children will have the opportunity to bring in an item from home that they can paint! It will be a messy and colourful experience that each child will have an experience to take home – their very own tie dye creation!
There are many benefits from today's experience!
Motor Skills: Children will be using rubber bands and using their hands to create patterns, dunking their items into the dye, and hanging up and drying their creations!
Sensory Integration: The senses will be engaged as children dip their hands into the dyes, wash their items and see all the colours of their creations.
Social Skills: Children may collaborate today as they create their materials, and explore the creations of the other children, talking about what colours and patterns they are going to use.
Cognitive Skills: There are interesting lessons today for children to learn about what happens when they put their minds to use, visualising what patterns they want to see and applying it to where they place the rubber bands.
Cancellation Policy
Cancellations by Timbernook
TimberNook Newcastle is an all-weather program – rain and shine are perfect for our outdoor activities. Having said that, in the event of dangerous weather (high winds, lightning) the program may be cancelled. Families will be provided with as much notice as reasonably possible and will be offered a credit for the cancelled session.
Cancellations by customers
Cancellations 7 days or more prior to your booking may be refunded with a $10 admin fee per child. Cancellations after this time and up to 48 hours prior will be provided with a credit. Cancellations 48 hours or less notice will only be provided with a credit if your booking can be replaced.
Please note that credits will only be held for a period of 12 months and will only be applicable to the child named under the original booking.
We cannot refund US dollar payments so please select carefully when making a booking.
To make changes to your booking please email
If you have any other questions, please do not hesitate to call our office on 0249478112 between 8 am – 4 pm Monday-Thursday, 8 am – 3 pm Friday.
Inspired EC
Week 1 – Tuesday 27th September
Sep 27 - Sep 27
Times: 9:00 am - 3:00 pm
Ages: 5 - 13
---
71 Prospect Rd Garden Suburb NSW
---
Instructor:
Reviews & Feedback