"It's mud season!" Johnny exclaims from the woods as he leaps over a puddle of melting ice. A warmer breeze blows through the trees, and he races to the once frozen pond to observe the lake that is beginning to appear. He snaps a stick from a broken branch and carefully touches the cold water. "We can't walk on the ice to our base anymore!" he tells a peer. Birdsongs echo in the background, and he begins to use large pieces of wood, previously covered in snow, to construct a "bakery" with another child. They gather what's left of the snow and fallen leaves to create "pies," and enthusiastically run from child to child to hand them out. Laughter rings out as a child actually takes a bite of the snow-licious creation! 
As the world shifts with the arrival of spring, our senses give us the chance to fully experience this marvelous transition. For the kids of TimberNook, the arrival of spring means mud play, getting your hands dirty (without mittens on) and watching for creatures as they come out of their winter hibernation – and many other exciting new ways to engage the senses! 
You may have heard of the common 5 senses – sight, smell, taste, hearing, and touch. But did you know that there are actually three more senses, known as the "internal senses" that give us critical information about our world? These senses include: proprioception, or our ability to know where our body is in space; vestibular, or our balance sense; and interception, or the internal signals from our body like hunger and thirst. Together, our sensory systems and brain perform "sensory processing," which takes in the sensory information from the world and helps us interpret what is going on. It is a powerful process that allows us to give meaning to our experiences and understand different sensations. 
Children LIVE through their senses! From a young age, children pick up items and put them in their mouth to explore their surroundings. They might nibble on a pinecone, eat a few fistfulls of dirt, or test out the taste of some leaves. As adults, we might try to limit this behavior to keep them safe; however, in reality, this is a natural and healthy process of making sense of their world. 
As children grow, it is important to give them the freedom to explore and play with the outdoor environment through the senses in their own time and space. This provides an essential foundation for healthy development of our sensory systems. TimberNook is the "ultimate sensory experience" as this curated play opportunity activates all the sensations.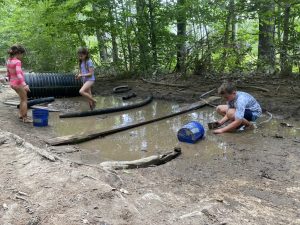 For example, think of giant mud puddle play! As children take off their boots, they sink their feet into the ooey gooey mud and it squishes through the crevices of their toes. They stick their hands into the damp, earthy scented mixture, maybe feeling a pokey stick or rock beneath the surface. They lift heavy buckets of water from one side of the puddle to the other, balancing on a fallen log in their path. As they splash through the murky water, it splatters onto their face and possibly even into their mouth! As their play goes on, their body alerts them that they need to take a break and eat a snack or drink some water. 
Sensory processing is a means for children at TimberNook to learn about themselves. They can gain a greater understanding of what sensations they like or dislike. They can become more comfortable trying new things as they become more aware of their body and surroundings. They can gain confidence in themselves through listening to their body to make autonomous decisions. Increased sensory awareness also has an impact on other critical functions such as motor skills, self-regulation, spatial awareness, speech/language, and emotional processing. 
As children learn how to interact with their environment through their senses, the context of the environment is the critical factor in this process. Provid
ing children with varied environments where they can experience novel sensory input allows for this integration. Outside of TimberNook, here are three simple suggestions to incorporate these kinds of opportunities: 
Beach play: As it's starting to warm up, the beach is a great place for sensory play. The soft sand, cold water, and myriad of beach treasures to discover become the perfect setting for a day of adventures. Encourage play by providing shovels and containers of different sizes to transport objects or get creative with sand fort building.

Rainy day play: April showers bring May flowers, and great opportunities for sensory play outdoors! Think of jumping in puddles, hearingthe rain on various surfaces, catching raindrops in your mouth, and floating stick boats through makeshift streams. Different weather itself provides novel sensory experiences. 

Front yard play: Lots of magical play can happen just steps away from an indoor environment. In the front yard, allow children to go barefoot in the grass. You can provide more sensory engagement by incorporating water, maybe a sprinkler or by filling large bins and providing various containers. Shaving cream or biodegradable soap can also add in fun sensory elements.

Sources: 
Moore, Robin C. "The Need for Nature: A Childhood Right."

Social Justice

, vol. 24, no. 3, 1997, pp. 203-20.

Ayres, J.A. 2000.

Sensory Integration and the Child.

Los Angeles: Western Psychological Services.