By Jillian McCalvey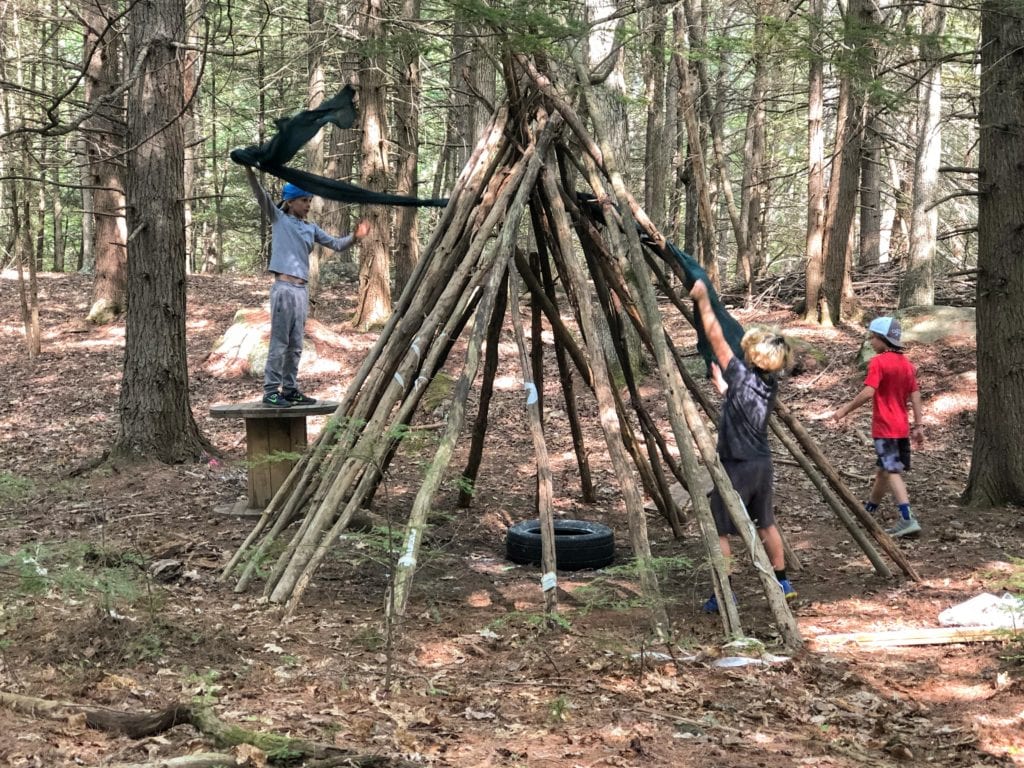 I built my first house at nine-years-old.
Not alone of course. Building something as complex as a house takes nothing short of a community. So, I enlisted the help of my two closest friends: Grace and Olivia. We quickly got to work on our "masterpiece" and chose a perfect plot between two V-shaped trees. Upon completion, it had an entranceway, all-natural pine walls, and was big enough to fit us all inside! Arguably, its best feature though, was the cozy carpet made of green moss. And as you've probably already guessed it, my first "house" was a fort.
My childhood home had four acres of forest on its property. Pine trees, fallen branches, boulders, swampland, ferns, acorns, and mosses were all found within my most frequented playground. The springs and summers were the best for fort-making. Lugging broken branches three times our size across mud, rocks, and uneven terrain was a regular daily occurrence for me and my friends. This space in nature was our sanctuary, where us kids (not our parents!) were the experts in design.
Building a house is no easy task. It requires planning, organization, problem-solving, and execution — all key components of important executive functions within the brain. The first step to building a fort is choosing its location. In my short time so far at TimberNook, I've seen many forts created. Some have been called "home bases," "houses," "tee-pees," "or "castles." They've been sites of battle, playing house, or even simply safe spaces to talk with friends. That first step though, picking a spot, is key to the success of the fort's function. A home base for your troop wouldn't be safe right next door to the enemy camp! That's where those executive functions in the brain start to do the some of the heavy lifting.
Next, materials must be gathered. Fort-building provides countless opportunities for "heavy work," or moments when the muscles and joints are activated from a gravitational load. This occurs any time materials (branches, bricks, sticks, planks) are lifted, rolled, dragged, or pushed toward their desired location. Over time, these actions strengthen the muscles and bones, while also activating the proprioceptive sense. Proprioceptors, found in the skin and joints, tell us where our body is in space and help regulate how much force to use when moving objects in our environment. Remember those gigantic branches I used to lug through the woods? This was heavy work at its finest!
The process of building a house, as with anything in life, comes with its fair share of unexpected obstacles. It may start to rain, the branches might be too heavy, a wall may collapse, and your hands get dirty and cold. Children learn to regulate new and sometimes "uncomfortable" sensations and emotions when building. It is also a chance to further fine-tune not only their senses, but also to constantly adapt their thinking and reasoning as new ideas are tested.
Fort-building is just one of those classic childhood experiences that has it all! It works on just about every developmental skill you can think of – from the cognitive processes needed to organize and plan, to the social-emotional learning that comes with collaborating with other children, to continuously engaging the senses and body systems – it is a timeless opportunity for children of all backgrounds, cultures, and ages.
Forts, now more than ever, may also be a place that children can feel safe and comforted, physically and emotionally, from such a turbulent world. Susan C. Margolin describes forts as a "safe haven" for children when their world feels out of control (2020). During fort construction, children are afforded the chance to adjust the environment to fit their needs. Looking back on my fort building days, I am grateful to have been given so many outdoor opportunities. The outdoors provided a place to have fun, make mistakes, and create sanctuaries, where my friends and I could feel safe and free.
I built my first fort at nine and I've been finding solace in nature ever since.
About the Author:
Jillian is a graduate student in UNH's Occupational Therapy Master's program. She grew up in Southern New Hampshire and served in AmeriCorps National Civilian Community Corps (NCCC) after high school, where she was part of a team of young people leading community service projects in various communities. Her service fostered her love of helping individuals and communities on projects they find meaningful. When she's not working, you can find her skiing at Sunapee, hiking, or road biking. In 2018, Jillian was able to combine her passion for biking and her love of service by participating in the Bike and Build program where she biked across the country to raise money and awareness for affordable housing. Jillian is excited to work with TimberNook this winter as a Level II student and has always enjoyed spending time outdoors. Says Jillian "I can't wait to learn about occupational therapy concepts in such a unique setting and find creative ways to inspire play for children."
Margolin, Susan C. (2020, May 18). Why kids love building forts — and why experts say they might need them more than ever. The Washington Post
https://www.washingtonpost.com/lifestyle/2020/05/18/why-kids-love-building-forts-why-experts-say-they-might-need-them-more-than-ever/